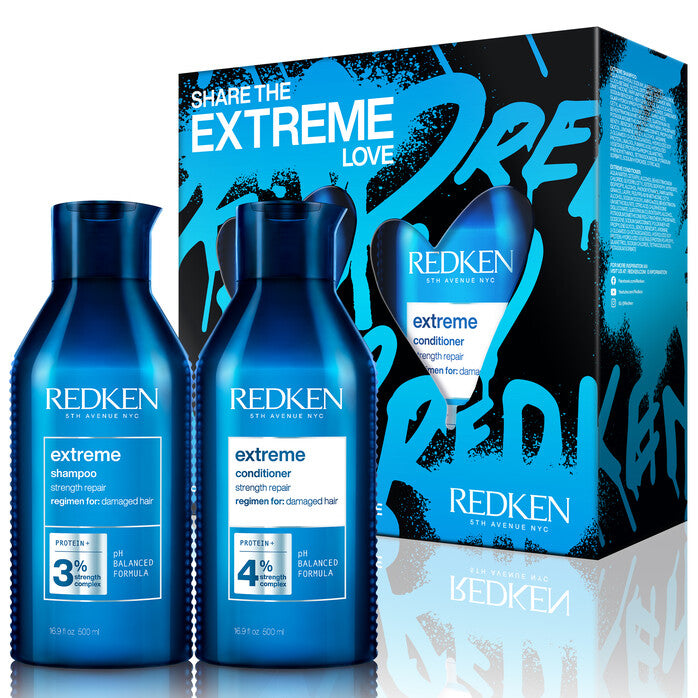 EXTREME DUO HOLIDAY GIFT SET
Extreme Shampoo & Conditioner (500mL)
THE BENEFITS
Share the Redken Extreme love and nourish your hair with a giftable, limited edition holiday set that includes Extreme Shampoo and Conditioner to restore damage, prevent future breakage, strengthen and fortify hair.
EXTREME SHAMPOO (500ML)
Prescribed for damaged hair, Redken Extreme Shampoo cleanses, strengthens, and restores damaged hair while helping prevent future hair breakage. Formulated with Redken's Strength Complex containing Amino Acids and Arginine, hair is strengthened and fortified while Citric Acid balances hair's pH to condition and add smoothness. Pros recommend managing and treating dry, damaged hair with the complete Extreme hair care system.
• Cleanses, strengthens hair and restores shine
• Helps fortify weakened areas of the hair
• Prevents breakage and split ends.
EXTREME CONDITIONER (500ML)
Redken Extreme Conditioner strengthens damaged hair, leaving it healthier-feeling and resilient. This fortifying deep conditioner on dry, damaged hair treats the root, core and tip of the hair through the proprietary Strength Complex. Formulated with Citric Acid, Amino Acids and Arginine, hair will be strengthened and fortified while returning hair to its healthiest pH. For superior results, use after Extreme shampoo.
• Detangles hair while preventing breakage
• Seals the cuticle for a stronger finish
• Helps fortify weakened hair areas - root-to-tip
• Leaves hair shiny and stronger
EXTREME DUO HOLIDAY GIFT SET
Store Details
Product Subscriptions
Products are automatically delivered on your schedule. No obligation, modify or cancel your subscription anytime.
Shipping & Pick up
All orders are processed within 1 to 3 business days. If there is a significant delay on your order from our part we will be contacting you by phone or email. If the delay is caused by the postal service, you must file a claim with the shipping company. We do not make refunds or returns. 
Pick ups are free and are available to pick your package in our store in Plaza Bayamón Mall Hato Tejas (next to Costco).
Order Tracking
When your order is dispatched from our store or storage you will receive an email with shipping confirmation and your tracking number. All orders contain a tracking number.
Get in touch
Instagram/ FB @topnailbar
Phone 787-334-0101
Email: info@topnailbar.com